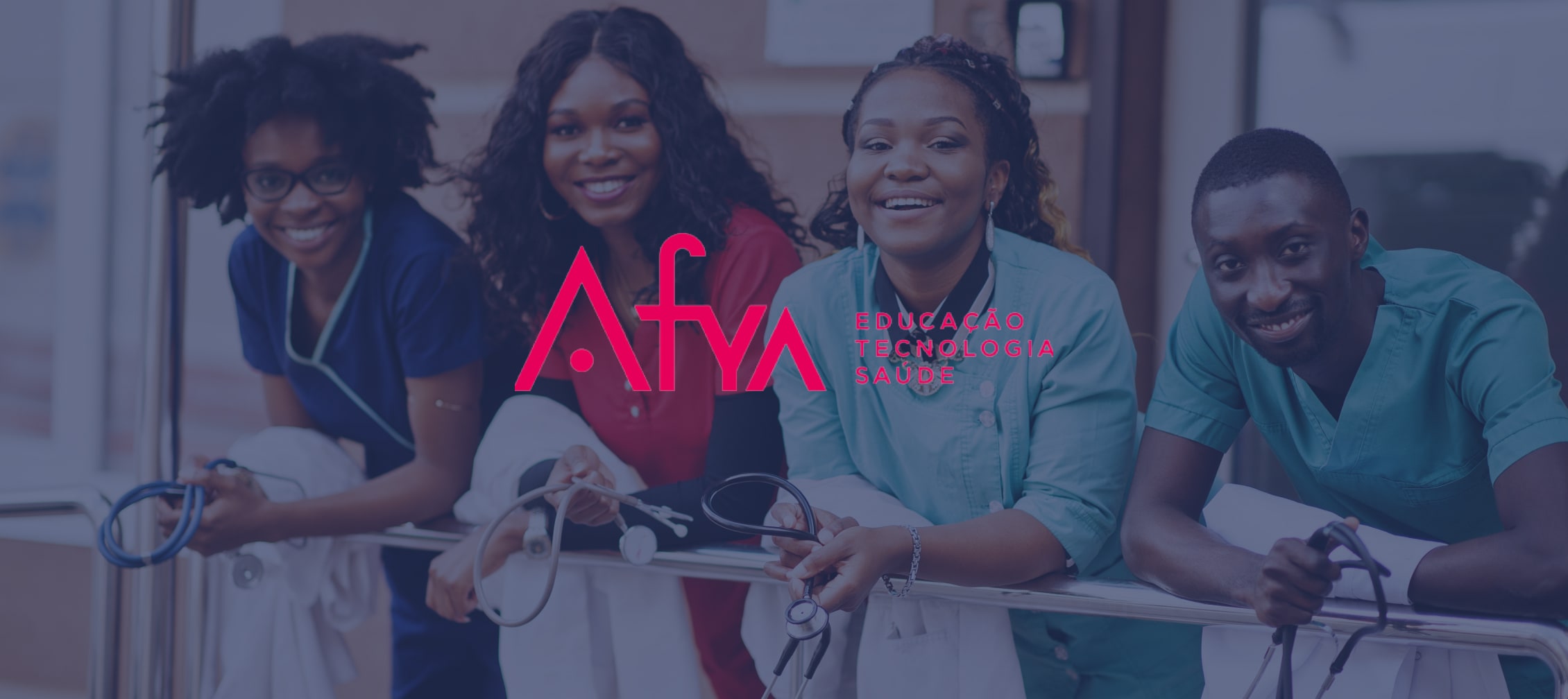 Insight, published 2022-05-03
Afya Medical Education Group
Delivering Medical Training – and Medical Care – to Communities Across Brazil
Adequate health workforce availability is a global challenge. In most countries, healthcare access is concentrated in larger urban centers where better training opportunities and practicing conditions make these regions more attractive. Shortages and inequitable distribution of physicians can be particularly severe in less populated towns and rural areas.
With the vision of opening medical schools in underserved, smaller Brazilian towns,
NRE Educacional founder, Dr. Nicolau Esteves, collaborated with municipal authorities and the Ministry of Health to construct its first campus in Tocantins in 1999.
Evolving to become Brazil's largest medical university group, in 2019 NRE Educacional merged with Medcel, a leading medical residency exam prep course provider, to create Afya. Meaning health and well-being in the Swahili African dialect, the group has expanded its original mission to become an innovative and lifelong learning and professional partner to medical students and practicing physicians alike.
Only in 2021, Afya Medical Education Group graduated more than 19,000 primary care physicians in its campuses in seven states – 70% in the North and Northeast regions of the country where the lack of medical care is greatest.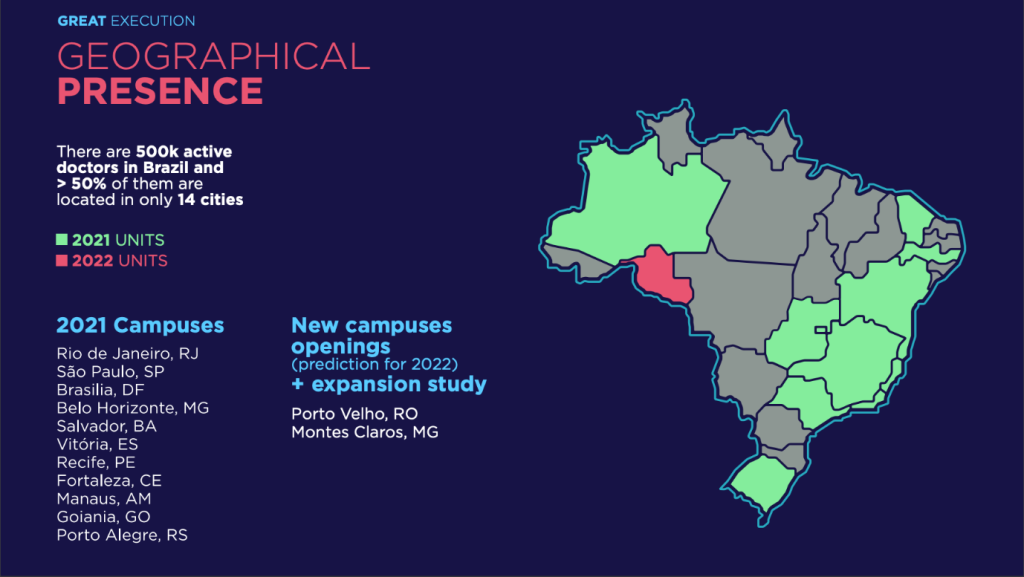 Afya's learning environment is oriented toward real world medical challenges. Its modern and flexible systematic approach is empowering more than 16,000 medical students, to transform their ambitions into rewarding lifelong experiences – and transform the lives of the communities they serve.
Ensuring the same high quality across all campuses, Afya's curriculum is standardized, and includes practical training, simulation labs, as well as blended learning using digital tools to support exam preparation and clinical decisions.
Solving the critical shortages of physicians across Brazil is at the core of Afya's mission.
From the beginning of their training, students are integrated into local and regional healthcare systems, working in more than 1000 partner hospitals and clinics aiding more than 340,000 patients annually.
Following graduation, physicians have two options in pursuing their profession:
general practice or medical residency. To gain acceptance in Brazil's highly competitive – and limited – residency programs, Afya supports young physicians with its Medcel residency exam prep course platform to improve scores. Additionally, Afya assists alternative accreditation programming with individualized study plans focusing on accruing hours of specialty training by accompanying certified specialists in direct patient care.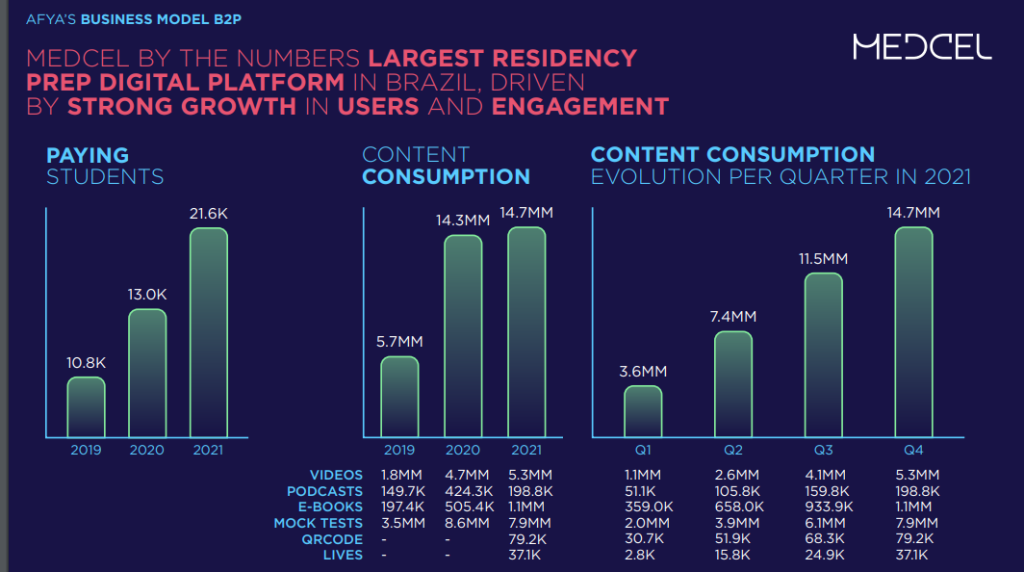 Continuing Education and Specialization
Afya's Continuing Education provides qualified primary care physicians the in-depth, interdisciplinary knowledge they need to expand their diagnostic and treatment expertise. Led by Afya medical faculty, these specialty courses introduce practitioners to the latest scientific findings and medical procedures and use clinical patient examination as well as remote tele-consultation. In two years, participation (3,189 students) and available clinical locations (11) have more than doubled, and recovery following the COVID-19 pandemic are driving both campus growth and course curriculum expansion.
A Strategy in Evolution: Afya's Digital Health Services
The outbreak of COVID-19 saw the regular provision of medical care disrupted across the world. In response, Afya expanded its approach to include a digital service strategy for physicians and their practices to further ensure the delivery of high-quality healthcare to underserved communities. Connecting more people – more efficiently – to healthcare, this component is being embraced by medical professionals and patients alike.
Using pioneering technology to personalize medical learning and practice, already today more than 247,000 students and physicians are benefiting from Afya's 6-Pillar Digital Health Solution at every stage of their medical careers.
Afya's Unique Stakeholder Value Creation
Using pioneering technology to personalize medical learning and practice, already today more than 247,000 students and physicians are benefiting from Afya's 6-Pillar Digital Solution at every stage of their medical careers.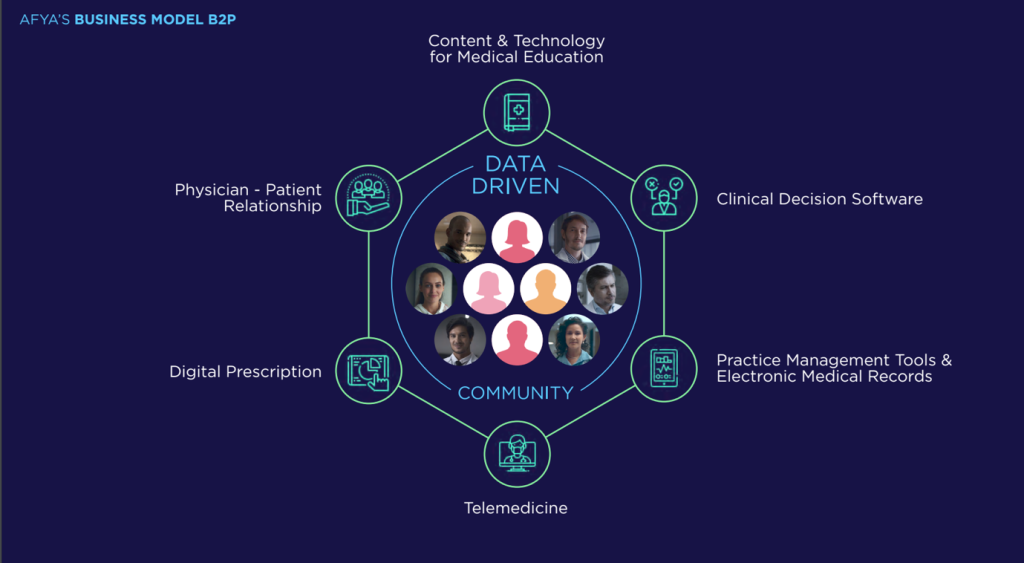 Afya's comprehensive digital solutions for physicians include practice management tools such as patient scheduling, medical record keeping and billing, as well as telemedicine and digital prescriptions.
Since its launch in early 2022, participating physicians have already issued more than 21,000 electronic prescriptions using Afya's prescription solution, clique Rx, listing over 27,000 registered pharmaceutical products and other healthcare items.
Thirty-three percent of Brazil's medical students and physicians use Afya's education and technology services. This also includes the clinical decision solution, WhiteBook, featuring diagnostic and treatment information, pharmaceutical guidance, and a clinician discussion forum.
Afya's Social Commitment:
Access to Quality Medical Training and Medical Care
In all its activities, Afya is committed to transforming medical access in underserved communities. Providing access to disadvantaged students is a priority for Afya as well, with 12.9% of students receiving full or partial scholarships annually. And because Afya's commitment to the communities where it operates is strong, free clinical services such as disease prevention are provided to local residents. In addition, visiting physicians with various specialties increase medical service availability, also free of charge.
With the aim of becoming Brazil's reference organization in medical training and digital health services, Afya deploys technology to deliver high-quality, cost-efficient learning and healthcare management.
Solutions with Impact – We Invest with Purpose
Bertelsmann Education Group is committed to investments that change lives. Focusing on healthcare, training, and education solutions, we partner with pioneers to empower students, professionals, and organizations with personalized learning to understand more and achieve better results – for themselves and the communities they serve.
We're always looking for new and innovative ways to leverage capital that makes a difference. With Afya, we've found a strong partner. We look forward to bolstering their position for exciting and meaningful opportunities ahead. Together, we are committed to strengthening the medical workforce and building healthier communities across Brazil.